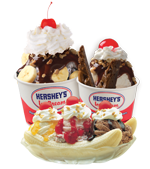 Kountry Kreamery proudly serves premium, hand-dipped "Hershey's" Ice Cream! Hershey's is premium ice cream with quality ingredients and special inclusions for an unparalleled sweet treat.
All of our Hershey's® Ice Cream flavors are made with fresh,
wholesome ingredients including fresh cream and fresh condensed milk that are delivered to the Hershey's plant on a daily basis. To ensure quality, Hershey's premium ice creams are created with top quality cocoa; hand-picked, fresh-frozen fruits; and in-house roasted high-grade almonds, pecans and walnuts for guaranteed quality and freshness!
Choose from over 32 Premium, Premium Gold, Sherbet, Frozen Yogurt and even Reduced Fat, Lactose Free and No Sugar Added flavors.
Will that be in a cup or cone? Sundae or split? Shake or Malt?